Raptor Rescue Patrons
Chris Packham
C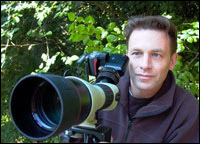 hris has been involved with the Charity since 1994 when he agreed to hand out the prizes in our Junior artists competition.
A zoologist, photographer, author and TV presenter, Chris has travelled the world filming for television encountering many exotic creatures in countless weird and wonderful locations around the globe. However, he still retains a passion for our native flora and fauna. Birds are one of Chris' special interests. Birds of prey in particular.
Here is what he wrote for our Annual Review:
"1957 Ferrari 250 pontoon-bodied Testa Rossa's do it for me. An old photograph of Audrey Hepburn on a bicycle does it for me.
But what does it more, more often, are glimpses of Sparrowhawks rocketing over brambles at dawn; hitting blackbirds before they clear the night's dust from their eyes. A shape of rich sienna tuming, a soundless rush and then a pretty flurry which hides a little death. Then a scream and at last a puff of loose grey feathers stuck by dew to the path. Somewhere she cowers with bloodied beak and those eyes, little suns, round yellow furies whose glare tattoos the wild onto the soul of whoever reflects their flame.
I am sure it is this power which draws us to the raptors, and why when they falter or fall they elicit our strongest feelings of pity. The purest would stand in horror of their incapacity and if it appears permanent, tolerate no less than euthanasia. Imperfections imposed on perfection are, it is true, anti nature. However, those who 'love' their birds will use their awe and respect to nurture the wounded and forgive them their lame blindnesses, they will cherish the ruins and do anything to prolong their essential lives.
What falls between these extremes could be called the rehabilitator's scale. There is no right and wrong. Where you slide your opinion to is up to you and no debate should ever rage to produce a standard.
Every effort made to sustain the lives and health of these, our most fabulous birds, is credible and no applause great enough to drown that hollow heartbeat felt when a patient flicks over a field and back into the forbidden side of life, a wingbeat the only wave of gratitude as it fades back into the wild.
And then I fantasize…
…How about Audrey Hepburn in a 250 Testa Rossa –
with a musket perched on the bonnet!"
Chris's official website
www.chrispackham.co.uk
Steven Lingham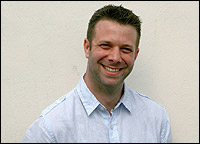 Steven Lingham is a self-taught artist born in Derby, England in 1973; He has spent the majority of his life living in Yorkshire and is now living in a small rural village near the beautiful old city of York.
Steven has a real passion for British birds, the subject matter for which he is most renowned. He uses a variety of painting media – acrylics, oils, gouache and the occasional pencil drawing, depending upon the desired effect, all of which allow him to attain accuracy in colour, shape and light.
Steven is renowned for the meticulous attention to detail in his paintings. His works can be found in many private collections worldwide, including in the UK, Europe, South Africa, and especially North America.
Steven is a signature member of The Artists for Conservation, a member of The Wildlife Art Society International, and the Marwell International Wildlife Art Society, all of which promote conservation of wildlife through art.
Steven's official website
www.stevenlingham.com