Rehabilitation Handbook and Code of Practice
It has always been a major priority for Raptor Rescue to promote high standards of care and responsibility for the treatment of injured and sick Birds of Prey.
Changes to the Wildlife and Countryside Act prompted the Raptor Rescue Trustees to become the first organisation concerned solely with birds of prey to establish such written standards.
After extensive consultation with active rehabilitators, carers, avian specialists and veterinary advisors, both from within and outside Raptor Rescue, the Charity published the first Guidance Notes and Code of Practice for  Raptor Rehabilitators that set out minimum standards and working practices. The initial 36-page booklet published in 1999 was welcomed by all people and organisations involved in work with wild raptors; so much so it has required a number of reprints and each time it has been reviewed, updated and revised.
The Rehabilitation Handbook and Code of Practice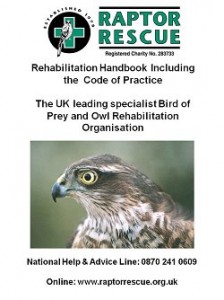 2008 saw the introduction of the revised Rehabilitation Handbook and Code of Practice which has been brought up-to-date with current legislation in 2011.
It has been produced in consultation with Defra, Animal Health, Scottish Government, Welsh Assembly Government, Northern Ireland DOE, RSPCA, SSPCA, National Crime Unit and Police Wildlife Crime Officers.
This complete handbook includes vital information for birds of prey and owl rehabilitators with chapters on facilities, husbandry, casualties and legislation. A number of useful forms are included and these can be downloaded for individual use.
The information can be accessed below; it has been split into its various sections for ease of reference.
Contents:
Cover
Contents
part1 – Introduction
Part 2 – Facilities & loan equipment           Part 2 App A – Resources
Part 3 – Husbandry                                       Part 3 App A – First aid kit
part 4 – Admissions                                       Part 4 App A – Flowcharts
Part 5 – Casualties
part 6 – Rehabilitation & Release
Part 7 – Rehabilitation Accredited Status
part 8 – Law
Part 10 – Constitution & Policies
Schedule 4 species       Annex A species      Further Reading      Contacts
Please Note: The guidelines we issue are advisory only and have no force of law.